There are a few coral outfits appearing in my wardrobe and I decided I needed a different style of necklace for them, so I headed back to Zilchbeads and found another inspiring spiral necklace using long Magatama 4x7mm beads, together with size 8 and 11 seed beads.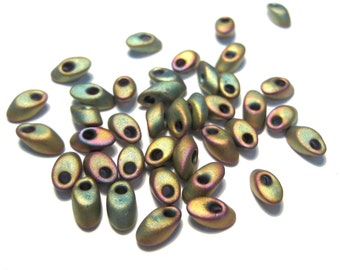 Photo from https://www.etsy.com/market/rainbow_rose_seeds
The beads are quite cute, and I was told that one way they looked like a "boot" and the other way a "shoe" so when stringing you have to make sure that they are all facing the same way.  I chose the "shoe" orientation,
and I had fun making the earrings using both orientations,
and here is the full set!
They are getting quite a bit of wear this summer with my cold shoulder top and my watermelon frilled top.